Many adults suffer from some form of back pain or back condition. But it doesn't just end there. It isn't uncommon to find your average teenager complaining of back pain. Bean bag chairs help in preventing and reducing back pain and tension hidden in joints and muscles. In this piece, we'll see how bean bag chairs can be beneficial.
Fix Your Posture
Treating back pain can be a very tough task. There are numerous causes for back pain and even many more treatments to address it. When you are looking to give some relief to your back, you must first assess your lifestyle. Try and figure out what the possible cause of discomfort could be and make appropriate lifestyle changes.
Lifestyle changes can include fixing your posture while you walk. It is easy to assume a slouch when sitting or walking, but this badly affects your back. When you have found a bean bag that works for you, use it to the fullest.
Bean bags are flexible and can distort to match the shape of anybody.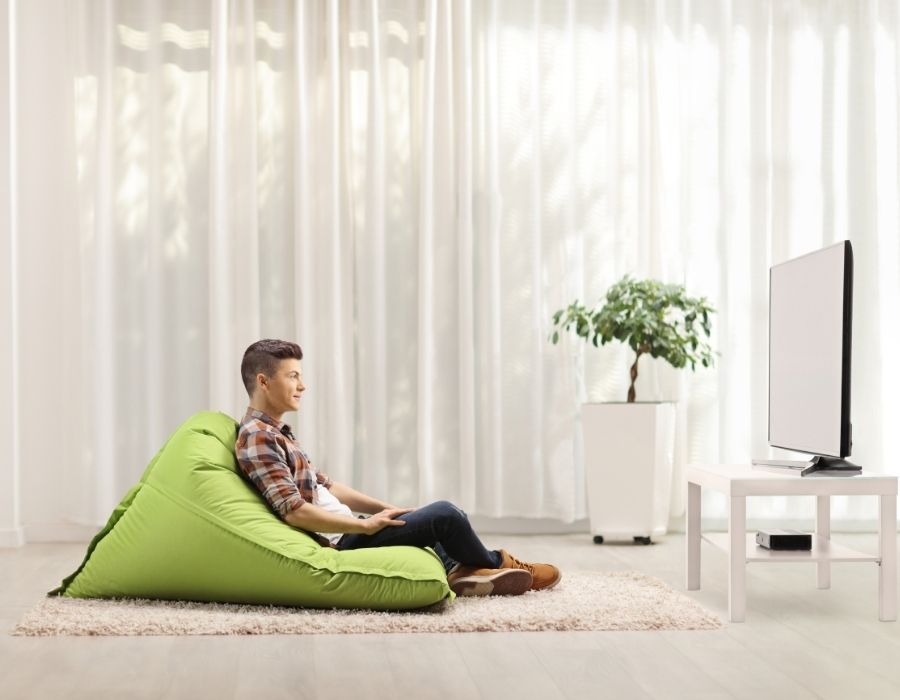 A chair that naturally adjusts to your body helps to take control of your posture. It gives full contoured support to the back, soldiers, head, and neck while giving them the freedom to adjust their position at any time. Bean bags help prevent and reduce back pain by adapting to any body shape, weight, size, and even height.
Opt for Comfort
Bean bags are known for being very comfortable. This is true for the newer versions being produced today. These upgraded versions now include the use of more intuitive fillings such as memory foam.
The video below talks about the different types of bean bag filling. Let's take a look:
The soft and comfortable nature of bean bags allows you to sink right in and just let go of any tension hidden in your back. Your body parts are duly supported, making it easy to reduce tension and any pain in your back.
Apart from being comfortable, bean bag chairs are also notoriously versatile. You can sleep, work, and play on them, thus making them a novelty in your home if you so wish.
Because the filling of the bean bag chairs easily adjusts to your body, you can trust that there will be no undue stress on your body as a whole or any parts of your back. This minimizes the risks of injuries, pain, or any form of tension being knotted in your back.
Bean Bags and Body Alignment
Many chairs being sold today do not support your spine. On the other hand, Bean bag chairs fully support the whole of your spine, thus supporting your back. This proper alignment of your spinal column prevents any pain in your back. It also teaches your joints and muscles how to be properly aligned, especially when sitting.
These days, bean bag chairs have made their way into many settings as their benefits are becoming wider known. You may find bean bag chairs in schools, offices, and even physiotherapist offices.
No matter how stressful a day has been or how tense your back is, you can trust your bean bag to have your back literally. The support, comfort, and relaxing feeling it gives makes it absolutely worth your while.
Bean bags might not be the ultimate option for ergonomically sound chairs. Still, they make the list one way or the other. Bean bags are fun, come in various colors and designs, and are also very affordable. If you have been looking for a way to help your back, a bean bag chair is a great, effective, and alternative piece of furniture to add to your home.
Back pain is a leading medical issue nearly everywhere in the world. You can reduce this by using furniture that is best aligned with your physical wellbeing. Very few types of standard chairs hold the benefits that bean bag chairs do. In a way, they can be irreplaceable in your grand quest to alleviate your back problems.
Picking the Right Bean Bag for Your Back Pain
When purchasing a bean bag chair, it is important that you lookout for a few key features. Seeing As you are not just purchasing for the aesthetics, you must make sure that you thoroughly consider the ergonomic prospects of the bean bag chair you hope to take home.
The first thing you should take note of is the comfort you feel in a bean bag chair. Take note of the softness and firmness of the chair, which will tell of the quality of beads inside the back. Also, make sure that the bean bag is proportionally aligned to your body such that your lower back is supported firmly. This lumbar support will alleviate possibilities of developing lower back problems or soothe any that already bother you.
Other features to consider include adjustability, the kind of fabric used to make the bean bag chair, and the height of the bean bag chair. You can also help your back by exercising to target different areas of your back and consciously managing your posture. Bean bags are no longer just a novelty piece of furniture for kids to play with.
The therapeutic advantages of bean bags are impressive. If you want to get rid of that frustrating pain, you should definitely consider giving it a try!